Everything You Wanted to Know About Pagebuilders - Part IV
Pagebuilders for WordPress
Introduction
Welcome to the fourth part of this six part blog series on Pagebuilders. In this section, we will talk about pagebuilders for the most popular Content Mangement System - WordPress.
Types of WordPress Pagebuilders
We will classify them into two categories- the mainstream pagebuidlers, and the specialist pagebuilders. The former cater to general purpose websites, the latter are in fact a subset that cater to a specific functionailty. Landing pages, sign-up forms, etc. are some of these specialist functions. We will cover this category of pagebuilders in the next part of this series.
What are the common pagebuilders for WordPress?
Wordpress is the most widely used content management system, and not surprisingly, the pool of pagebuilders for Wordpress is very large. I reviewed several lists as a part of my research while writing this post. The starting point, not surprisingly, was a simple search on a search engine. In this post, I am adding the results from a search conducted on Bing.

Beaver Builder is one of the more popular WordPress pagebuilders
To save you the trouble of having to go through the multitude of posts, below is a selection of posts that I reviewed.
Mainstream pagebuilders
There are several names in this segment, some are more known than others. For example,
The "LES List" of pagebuilders for WordPress
In no particular order, I am listing the different pagebuilders for wordpress. This list is derived form the Kinsta Blog on Pagebuilders but with my comments and notes.

Popular pagebuilders for Wordpress. Image by Vyas
How much to pagebuilders for wordpress typically cost?
There is an interesting comparison of Wordpress pagebuilders in the blog by AThemes. In particular, there is a chart that lists the pricing for these softwares, which I have captured as a screenshot below.

Table comparing pricing for WordPress Pagebuilders. Note that these prices are current as on April 2020. Source:Athemes Blog.
---
Review of Pagebuilders
In the below section, we will cover two of the above pagebuilders: Divi and Thrive Architect. These reviews have been written by @Ympker
---
Divi - ElegantThemes
Short note : My review of Divi will probably end up more thoroughly than on the other Pagebuilders because there is just so much more to say and also because I use it the most.
Introduction: Why do Pagebuilders for WordPress exist in the first place?
Probably everyone that has had to do with WordPress websites within the last years and has only remotely read about the diverse Pagebuilders available has most likely heard the name "Divi" before.
Pagebuilders like Divi, Elementor, Beaver Builder, Brizy, AstraWP, HestiaPro and others were brought to life out of the need to offer the user an enhanced feature set and more intuitive workflow to building pages or blog posts as opposed to the WordPress Standard Page Editor (that unfortunately right now is "Gutenberg" which is even more uncomfortable to use than the Classic WP Editor).
In the future - and with further development of Gutenberg - it could very well be that Premium Pagebuilders won't be that necessary anymore but even if that was the case I can still imagine them to have a bright future as a part of WordPress since they could very well focus on certain niches or just add certain (long-awaited) features faster than the regular WordPress Builder.
So what good does Divi do then?
Of all the 4 Pagebuilders I will review in this thread, Divi offers probably by far the biggest feature set. There are just too many features to list them all which is why I have linked the "Features" to the official page from Divi so you can see most of Divi's features in more detail. One of the cool things of having available to you a premium Pagebuilder like Divi with so many features is that you probably won't have to pay for any WordPress Themes or Plugins to enhance your page design.
Divi is like an All in One (AIO) solution in that regard. I very well remember the first version of my mother's website I created with WordPress years back. I started out with various free themes only to always hit a paywall if I wanted to optimize the looks of my website. Want full-width and freedom about sidebars & more? Pay up. Want to customize Footer/Header? Pay up. Same with page content: Want a slider? "Hey, here is a basic one... but if you really want one that can be used in production please pay up". "Want an image gallery? Sure, here you are. Oh, you wanted to show a description below the images or show their title? You wanted to have a black box? Please pay up in that case".
Quickly enough my mother had to pay for a (still shitty compared to Divi) image gallery plugin at 40€/year, some slider plugin, a theme and whatnot. Literally every time I thought I found a free solution that worked, I hit another paywall when it came to customizing it the way I want. Now, I am not saying premium features should be free or Devs don't deserve their money but after years adding one premium plugin/theme to the "paid yearly" I decided this couldn't go on. It was then when I found out about Pagebuilders and read a bit into them. "Divi" was what one of them was called...and it looked great...and it included a gallery by default...and various sliders...and so much more [modules]
(https://www.elegantthemes.com/documentation/divi/modules/)...and it had a lifetime unlimited site sub , was actively maintained and being updated, a huge knowledgebase also including video articles and a huuuge community (and this nice Facebook group with the Devs being part of it) behind it.
The discounted price on some CM/BF sale was 199$ for lifetime and we didn't have to do the math for long to find out we could save quite some coin going with this AIO solution that bundled everything we ever had to pay for and so much more in one Theme/Plugin.
Why do I say Theme/Plugin? Isn't Divi a Plugin like other Pagebuilders?
Well, not really. Divi is actually a whole Theme that offers all the customization options of a premium theme you'd usually have to pay for and includes a Pagebuilder by default to fill your website with content the way you want (gallery, images, sliders, layouts, videos, google maps..see "modules" a bit further up). The Pagebuilder ("Divi Builder") also exists as a standalone plugin (like other Pagebuilders) to allow for usage of Divi Builder with any other WordPress theme (in case you wouldn't want to use the Divi Theme). Personally, I can't think of a free theme out there that I'd prefer using over Divi Theme since Divi Theme is already fully "unlocked" and does not bear further paywalls. I already paid for that one.
There are, of course, other great Premium themes out there with other/advanced customization options that someone at some point may prefer. Or your client's website runs on a whole different theme and he doesn't want to change the theme. You can then still install Divi Builder Plugin and create super cool pages/content with all the features of the Divi Visual Page Builder.
ElegantThemes also recently added the Divi Theme Builder so you can now create a premade custom theme and use it as a starting base for a new project (which speeds up your workflow tremendously). Another great way of easing your workflow with Divi is its' option to use premade layouts. You can either save a page layout you made yourself to simply 1-click import it to a new page which is supposed to have a similar structure or use one of 110+ premade layouts (more being added weekly) for various categories (Business, Restaurant, Health&Fitness, Online Store, Services, Technology, Simple..) live preview them and 1-click import them to your page: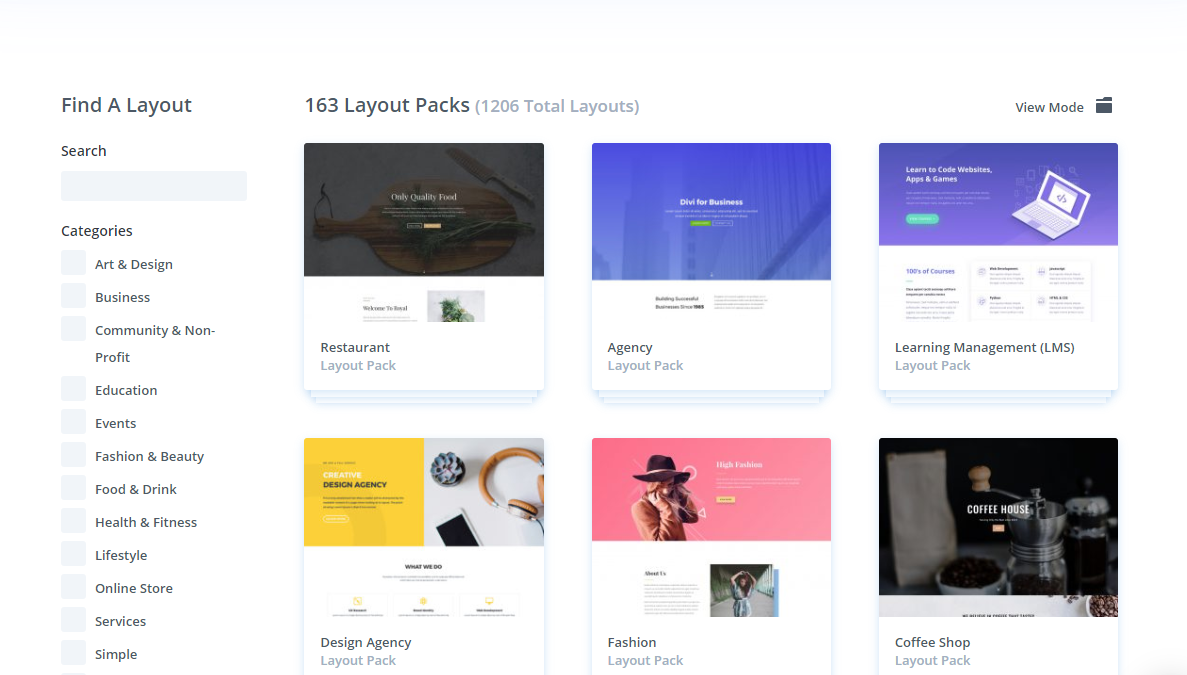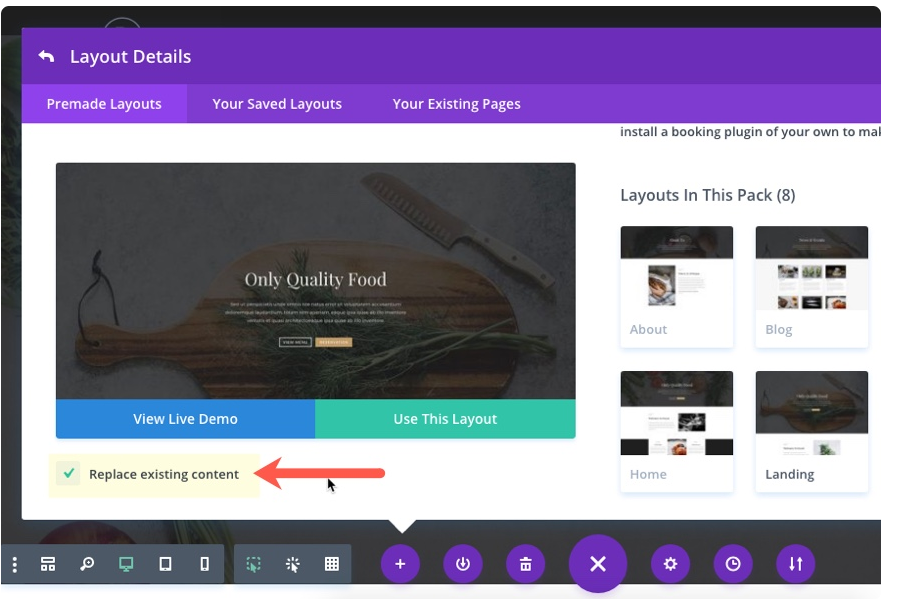 Here are some more insights of the Divi Visual Page Builder: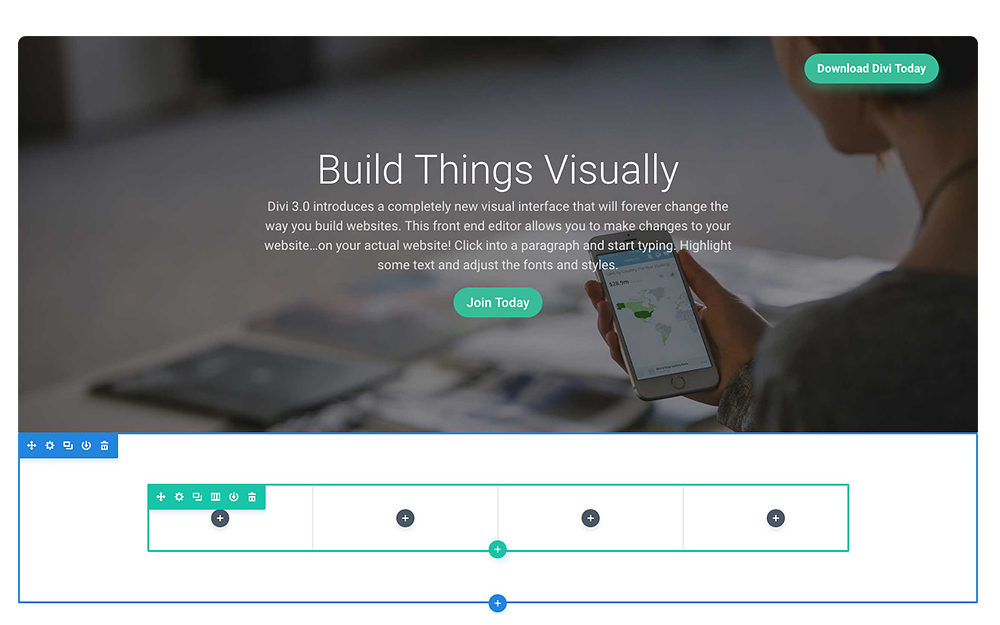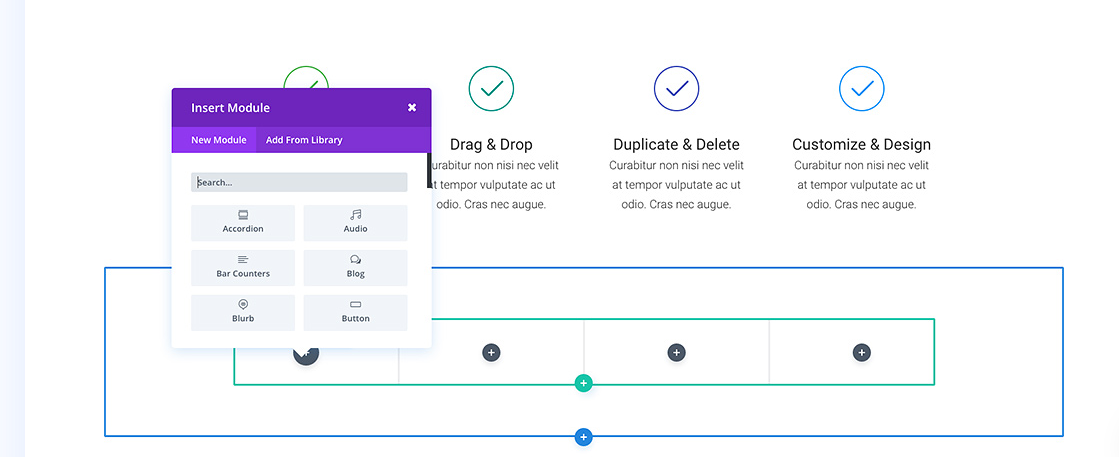 I also love the kinda hidden "Wireframe View" through which I usually first plan my site's layout in the "Background" before actually adding content: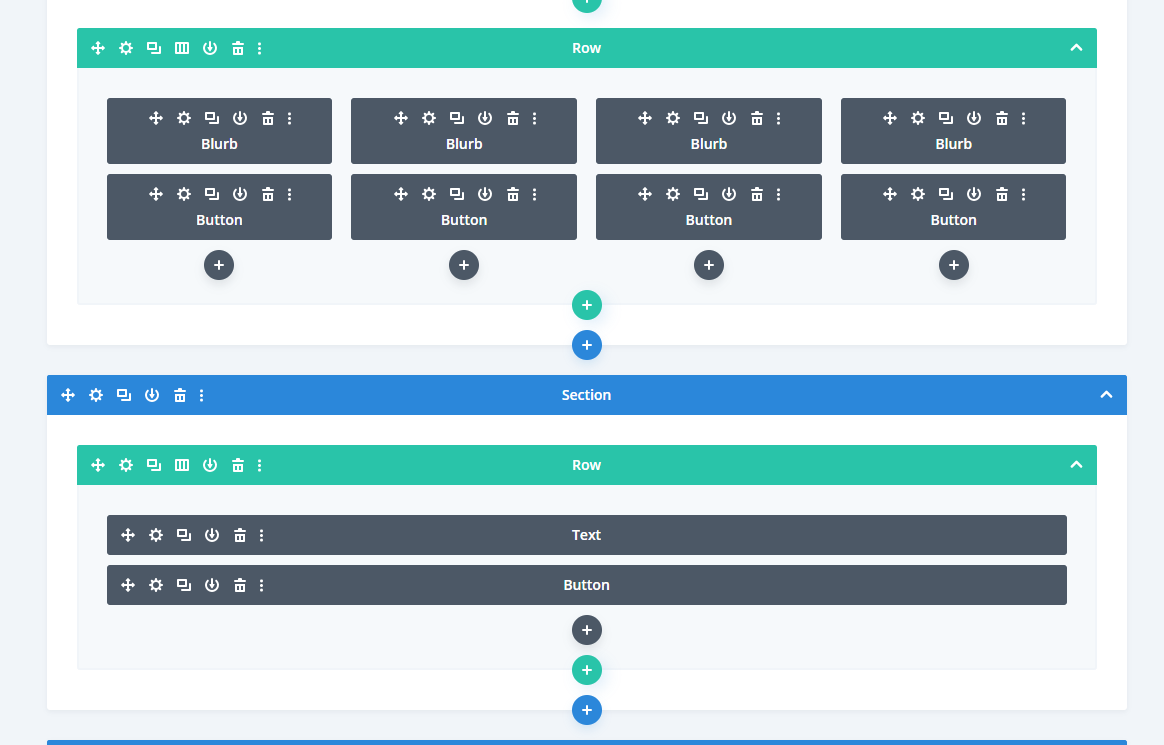 There is so much more to say about Divi and so many more features I probably forgot mentioning but I hope this could give you an idea about what you can expect feature-wise
Pricing: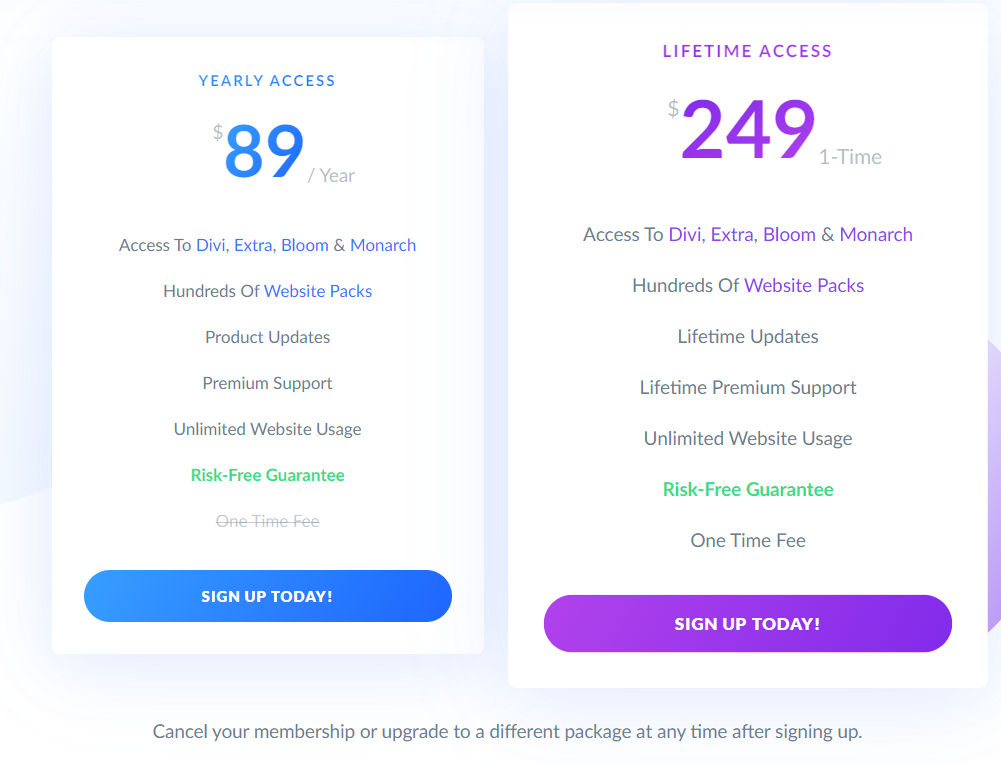 The pricing from Divi is pretty straight forward with a yearly plan available and a lifetime license. Both plans allow for unlimited site usage (also for client's sites). It's 89$ per year or 249$ a one-time fee. You can also start with the 89$/year and if you like it later upgrade to lifetime by paying the difference iirc.
I straight out bought the lifetime license though, so I don't know for sure. There is also a money-back guarantee. While 249$ (or 200$ on sale) might sound a bit steep, it is really an AIO toolkit you get as far as page building and design is concerned. You also - I didn't mention this before - not only get access to the Divi Theme and Divi Builder, but also the EXTRA Magazine Theme (especially focused on blogging) and Bloom&Monarch as powerful Social Media and E-Mail Opt-in plugins on top: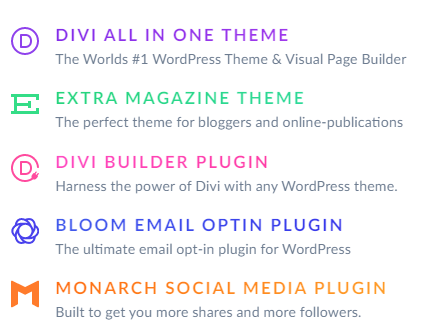 At that price point one really can't complain. Especially in regard of the lifetime license. With Elementor and other builders, you are paying a yearly fee which quickly adds up and will end up higher than the Divi Lifetime deal. This is not to say Divi is the best Pagebuilder out there, but to say it is definitely worth your money if you are looking for a WordPress Pagebuilder.
My experience using Divi:
There is not so much left to say this time since I have already told you about how I ended up with Divi and what it allows me to do, but there's still something I can say about how I experienced Divi over the years: Overall, I thought Divi has developed greatly over the years I have used it, continuously adding more features and content. I have yet to figure out all ins&outs of Divi because I have only used a fraction of the tools and features available. Just like any page builder (of course also here performance varies), it will add some more load time to your WordPress site but it will also make your life so much easier.
My pages have, however, not become super slow like the ones you can read about online when you google something like "Divi slow". I can only talk about my experience, I while I don't want to point the finger I'd guess that at least some of these pages that load slowly with Divi also perform poorly because of user error (bunch of not optimized extra plugins, potato web host, poor resource allocation..).
I really grew fond of the Divi workflow and one of the things I love is that using the Divi Theme I never have to worry about plugin/theme compatibility when upgrading WordPress or the Divi Theme because I don't have any other content-related plugins installed that might break. Everything is included in Divi Theme. That's the advantage of an AIO kit. When I think back to the times some Gallery Pro plugin, a slider or some other plugin I purchased broke upon updating...ouch.
Conclusion:
Ultimately, I can only recommend you go and check Divi out. It is definitely worth the money.
It has served me well over the years and also works great for building client sites from scratch or enhance them with Divi Builder. You can enable and disable API keys so you can even charge your clients a yearly "Divi" fee if they want to keep getting updates for it (with some cheapo clients I do that, with local clients that pay a whole different price for their website I don't charge them and include lifetime Divi theme/builder updates as a nice extra
Oh? Not a fan of WordPress? Build your website with the Divi Builder and export it as a static HTML&CSS site using something like WP2Static. Speeds up performance and adds security to your website. Especially nice for non-dynamic websites that only require an update in a while. That's it! Hope I could help you get an insight about Divi
I am sure @Unixfy can also share a bit more Divi Love if that was not enough :P
Architect HTML&CSS Pagebuilder:
I will not go into detail on this one. This is just an honorable mention:
Architect HTML&CSS Site Builder from Codecanyon (59$) comes with some basic WYSWIG editing features. It's not the best of the best feature-wise and it is not the most comfortable to use either. Its' feature to have a user frontend (basically people can register and use the page builder to build their website) is pretty cool. Users can create and then publish their website to a subdirectory of public_html, or a subdomain of your domain. They can also download the code. There are a bunch of templates, too. Depending on the license you buy, you can also charge them (subscription system included) for certain features.
Basic interface of the page builder when in editing mode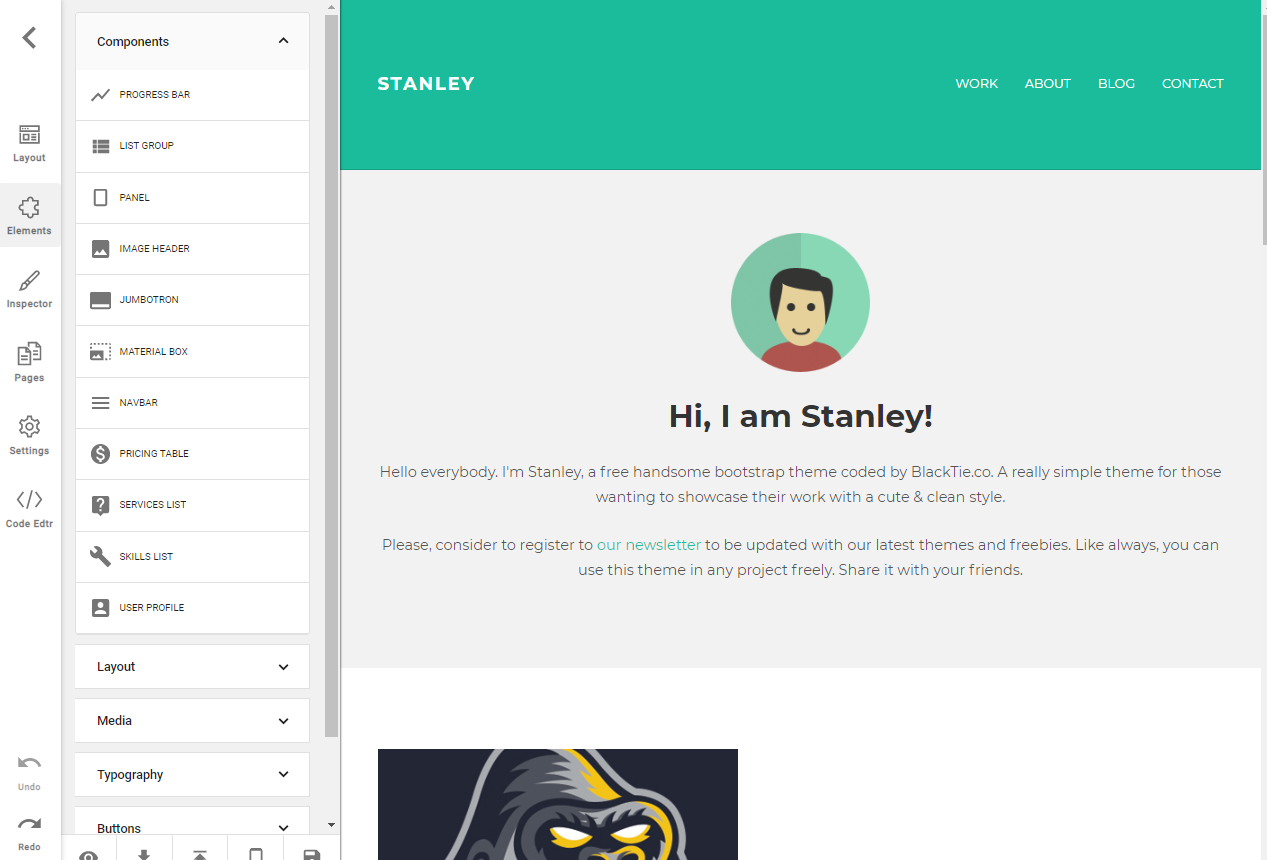 TL;DR:
It could be interesting if you want a SaaS page builder setup facing towards your customers (and possibly charge them for this). Only basic features though. Not the best of the best. I bought it, though. I still have a live instance running if you wanna give it a try. A while back, several LE members tested it (can't find the thread though) and the final verdict was that it was "okay to use" iirc.
---
This concludes the fourth part of the series. We gave an overview of Pagebuilders for WordPress, with a list of sites that have covered this topic in detail. In the next part, we will cover two more pagebuilders: Brizy and Elementor, with a passing mention of two or three more alternatives in this segment.
About the series on Pagebuidlers
This six part series on pagebuilders has been authored by me, @Vyas and @Ympker for the Low End Spirit Blog. The topics covered in the previous posts are as follows:
Thank you for reading, and we welcome your comments in the section below.
Tagged: